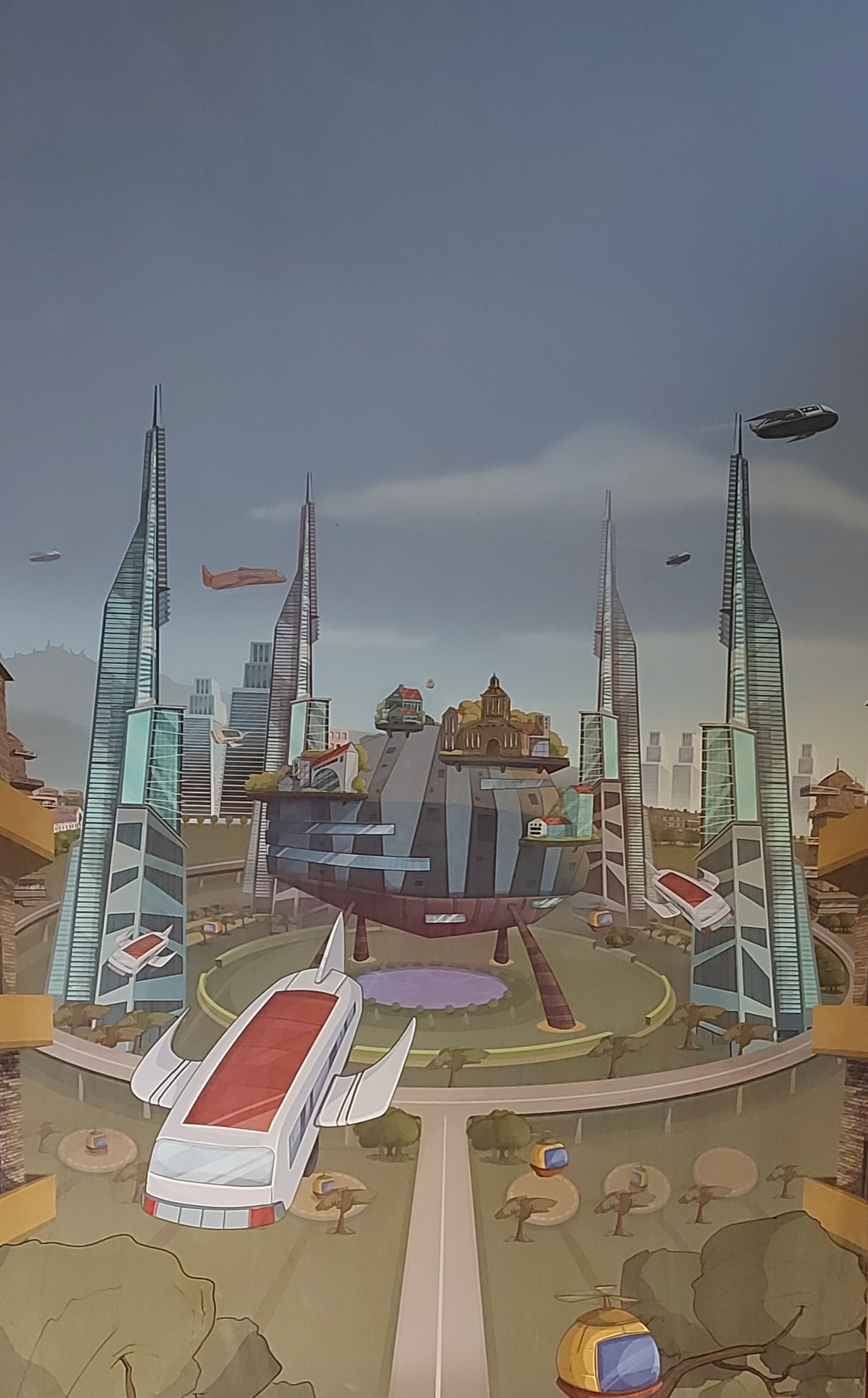 Illustration made by Anas Salameh based on the scenario description
By 2100, Tøyen has become the new cultural and economic hub of Oslo. Both professional and private life has changed radically due to the influx of smart technology. The 100,000 strong population in this multicultural district rely on translation apps to communicate and voting apps to make decisions through smart-driven direct democracy. At the end of the 21st century, The Munch Museum returned to its former home at Tøyen. Skyscrapers tower over the parks and lush gardens. They are owned by the city, and provide public housing to the city's ever-growing population. Universal basic income and a range of automated services give the people who live here a simple life with lots of free time.
Is everyone in your family competent with technology? Would they be comfortable in this scenario?
Is it possible to ensure that smart-cities are governed by democratic principles?
The process behind BEYOND TØYEN
Designers: Anas Salameh and Suzan Serdashti
Workshop 1, autumn 2021
The idea behind Beyond Tøyen came about through four workshop evenings at the Intercultural Museum in October and November 2021. What if the area around the Tøyen centre was to become the new financial and cultural centre of Oslo? The participants let their minds wander, and imagined a utopian, ultra-modern district with sky scrapers in glass and steel, where robots and smart technology are part of everyday life. At the same time, many of the area's parks have been preserved.
Participants: Maaida Gulled, Khadira Jama, and Sumaya Hassan.
Workshop 2, late summer 2021
Maaida and Sumaya from Workshop 1 met the illustrator Anas Salameh. Together, they went on a visit to Tøyen where they photographed central buildings and landscapes as a basis for Anas' sketches. Anas then drew a neutral cityscape covering an entire wall in the exhibition, with the intention that visitors could help complete the picture by drawing the details themselves.
Workshop 3, autumn/winter 2022
Three drawing workshops were held at the Intercultural museum during the school holidays in autumn and winter 2022-23. The participants were assigned the task of trying out the ideas from Workshop 2, drawing elements to the picture with the guidance of Anas. The participants were young people from Forandringshuset.
Participants: Hana Teclezghi Kiros, Asha Musse Hagi Yusuf, Josefine Wøien Bøe, Georg Bothner-By, and Silje Kjørholdt.
When we imagine a smart, future city, we often tend to imagine in terms of the images that have been given to us. Flying cars, shiny skyscrapers, and all services done digitally, supported by machines and AI. Yet this vision of the future has also needs to be challenged: who are we building these cities for? Who would live there? Would it be an enclave for the rich, or would it benefit all citizens? And what would be the infrastructural and environmental costs of building such smart cities? And finally, how would such a city accommodate those whose ways of living may not conform to the requirements of such places: for instance, populations that are not comfortable with using the latest smart technology, populations concerned about privacy, and populations interested in living more sustainably and in an environmentally friendly fashion rather than living smart?
Beyond Tøyen is a smart city, where some aspects have developed in new ways while others less so. For instance, buildings are collectively owned, and a new political system of direct democracy has evolved whereby policy making is shared with the inhabitants. Technology is generally well received. However, we want you to challenge yourself to think of the problems that might be inherent in such a vision of the future? Who or what are we living behind in our quest for creating "smart" spaces? For instance, how does this city cater to accessibility, for instance to the technologically challenged?