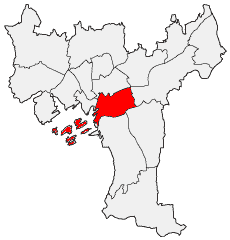 Beyond Barcode is a collaborative, research-based exhibition project where the goal is to create diverse future imaginaries in cooperation with multiple partners in Oslo.
Future imaginaries are the outcome of the imagination, they represent visions of futures that might appear ficitional but have real-life, material impact. Building on the concept sociotechnical imaginaries developed by Sheila Jasanoff and Sang-Hyun Kim as "collectively held, institutionally stabilized, and publicly performed visions of desirable futures" (Jasanoff & Kim 2015: 6), the aim is to create space to proliferate future imaginaries.
The project intends to move beyond dominant imaginations that serve specific interests, and explore many possible futures that may reveal overlooked or marginalised aspects of the future life in Oslo, with a particular focus on Bydel Gamle Oslo.
We believe that imagining the future is a skill that can be developed and used as a catalyst for inspiration and change. While everyone can imagine their own future, this ability has limited impact on our social life unless we create space and time to develop and present these ideas. The Beyond Barcode project draws from Futures Literacy, acknowledging the role the future plays in what we see and do, and expands on it by pluralising futures and futures knowledges through the creation, development and presentation of multiple future imaginaries of Oslo, reflected in national and planetary challenges of our times. 
Deji Bryce Olukotun, the maverick Afrofuturist author of the critically acclaimed Nigerians in Space, claims that "everyone has the right to imagine their own future." In practice however, this right to imagine is highly mediated by regulations, programs, top-down schemes framed for populations within buildings with steel chrome glass facades, and normative politics of managerial uniformity. What if we take back that right and start creating many possible, potential (and even preposterous) futures of Oslo?
According to the Norwegian Monitor's time series data on feelings of happiness and satisfaction with life, the stable and slightly rising levels of subjective well-being from 1985 have changed from 2009 onwards to show a marked decline for the younger age groups (15-39 years old). The change is traced to the increasing worry over the future and fear for various negative developments (Hellevik & Hellevik 2021). This exhibition project addresses this change directly by promoting the capability of imagining the future, positioning oneself in future imaginaries and exploring the diverse potentials of multiple futures.
Beyond Barcode project aims at making space for imagining, creating and reflecting on many potential futures while simultaneously exploring the implications of embracing the complexity of plural possibilities. The project achieves this by co-creating future scenarios and developing them further into prototype futures for the exhibition that is planned to open in September 2022.
The exhibition project is a collaboration between the Interkulturelt Museum (Oslo Museum) and CoFutures (University of Oslo). It is funded by the Norwegian Research Council, European Research Council and Sparebankstiftelsen DNB.
The organisation and oversight of the project, along with the management and selection of collaborators is in the hands of the curatorial team:
Bergsveinn Thorsson (CoFutures)
Anders Bettum (Interkulturelt Museum)
Annelise Bothner-By (Interkulturelt Museum)
Bodhisattva Chattopadhyay (CoFutures)